Elizabethan Staircase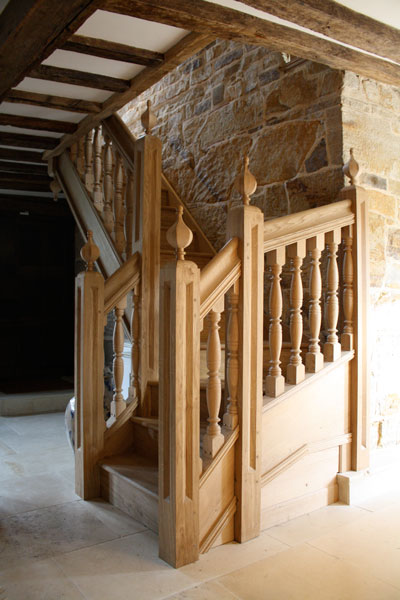 This staircase was designed and made for a manor house, which had long since lost its original staircase joinery. The remit for the project was to recreate a staircase, that fits the age and beauty of the property. With historically accurate details, that were inspired from research done on the few remaining staircases of the Elizabethan Period.  The mouldings of the handrails, carving on the newel posts and turning on the finials and spindles are all unique to the period.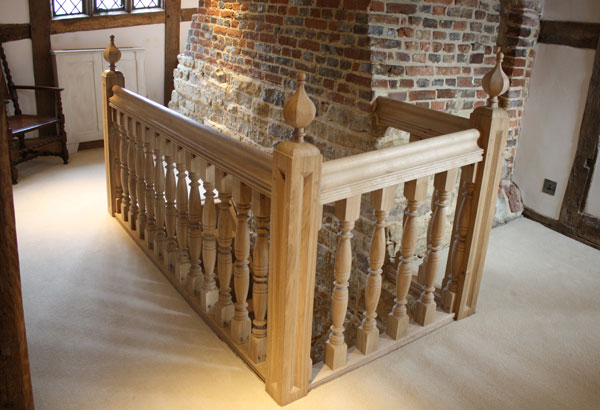 Testimonials
I would like to add my name to the many satisfied customers of Heartwood Construction and Joinery. In our case they constructed a complex solid oak stair case over three floors, with an extra landing. This complex construction was in an Oast House which does not know what a "straight line or right angle" is! So this was a very complex difficult construction. We were delighted with the outcome, which was finished to an extremely high standard, and fitted with minimal disruption. I certainly would recommend Heartwood where complex hand crafted skills are needed.
Peter Ward Booth, Buxted, East Sussex
"We are extremely pleased with the superbly handmade windows and doors that Heartwood Construction made for our period home. Chris Payne has an understanding and feeling for old houses, with knowledge of their original construction that helps him to ensure that the joinery he creates will fit into and move with a property that will continue to develop over the years".
S.Bowles, Burwash, East Sussex