Sussex Heritage Award
Christopher Payne has won a prestigious Award from the Sussex Heritage Trust.
The Award is The Building Crafts Award 2009. For Skill and Dedication, to Recreate and Restore Period Oak Joinery and Oak Framing. Pictured here being presented with the award from The Rt. Hon. Lord Lloyd of Berwick PC.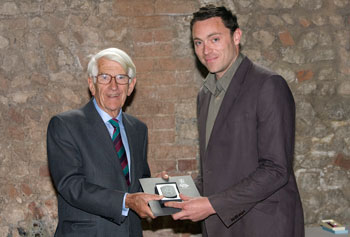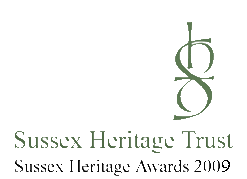 Please follow the link to The Sussex Heritage Trust website.
http://sussexheritagetrust.com/index.php?option=com_content&task=view&id=51&Itemid=1
Testimonials
Heartwood Construction shows a refreshing enthusiasm and a professional approach to the inevitable repairs that are required. The installation of a concealed steel (T / flitch plate) inside a prominent oak beam was completed with a minimum of fuss and no unsightly reminders. Chris Payne richly deserves his 2009 Sussex Heritage Trust Award for a competent and sympathetic approach to historic restoration.
P.Higgs, Mayfield
I would like to add my name to the many satisfied customers of Heartwood Construction and Joinery. In our case they constructed a complex solid oak stair case over three floors, with an extra landing. This complex construction was in an Oast House which does not know what a "straight line or right angle" is! So this was a very complex difficult construction. We were delighted with the outcome, which was finished to an extremely high standard, and fitted with minimal disruption. I certainly would recommend Heartwood where complex hand crafted skills are needed.
Peter Ward Booth, Buxted, East Sussex