Contemporary/Traditional Windows
Heartwood has just finished a window job with the perfect balance of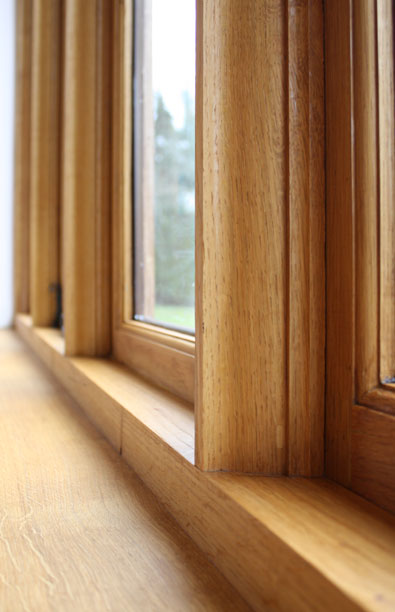 contemporary and traditional design. The main uprights/mullions on the inside are moulded with the same mouldings copied from 16th century mullion windows, the opening and fixed sashes are more modern with a smaller ovollo moulding. The glazing panels are large sealed units with a high insulation value (argon gas filled k glass). The overall effect is a large glazed area creating alot of light in a large sitting room and the perfect marriage between modern and traditional.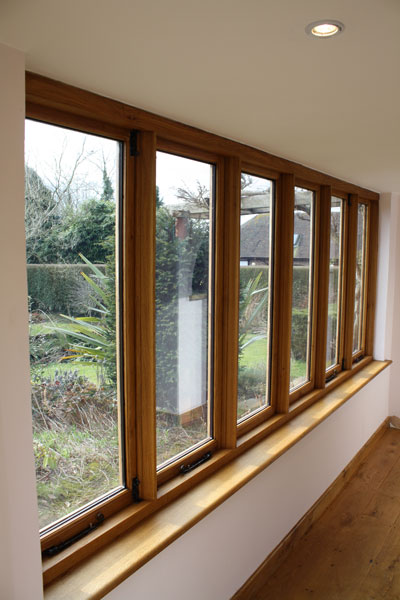 If you are interested in designing original joinery with us, then please contact us with your ideas. We will be happy to help.
Testimonials
Heartwood Construction shows a refreshing enthusiasm and a professional approach to the inevitable repairs that are required. The installation of a concealed steel (T / flitch plate) inside a prominent oak beam was completed with a minimum of fuss and no unsightly reminders. Chris Payne richly deserves his 2009 Sussex Heritage Trust Award for a competent and sympathetic approach to historic restoration.
P.Higgs, Mayfield
"We are extremely pleased with the superbly handmade windows and doors that Heartwood Construction made for our period home. Chris Payne has an understanding and feeling for old houses, with knowledge of their original construction that helps him to ensure that the joinery he creates will fit into and move with a property that will continue to develop over the years".
S.Bowles, Burwash, East Sussex