Southover in Lewes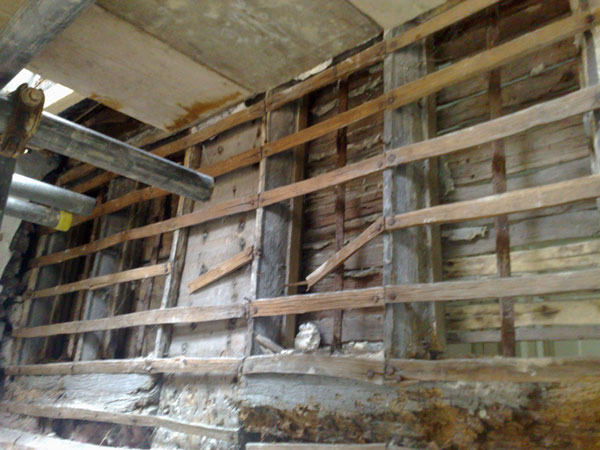 Another very specialist historic project has been taken on by Heartwood Construction. Whilst research was being done on the handpainted wallpaper in the Grade 2* listed building circa 1550 in Southover in Lewes, near the The Anne of Cleeves House and almost as old. Some mullion windows were discovered in a wall, lost in time and panelled over, possibly due to rot and movement in the beams or the window tax between the years of 1696 to 1851. During this time many windows were closed up to reduce the taxes on a house hold, but it is most probably the former rather than the latter, because the status of the house suggests that there was not a shortage of money and there is a significant "out of square" shape to the openings. These windows have large ovollo mouldings which was the style of that era of woodwork and often regarded as a "golden age", for decorative oak framing.
Heartwood Construction will firstly have to remove all unwanted lathes, nails and all loose rotten timber. All the woodwork will then be thoroughly and sympathetically repaired and renovated. The opening frames will be handmade by a specialist blacksmith and decorative latches with scrollwork copied from other windows in the building. Once the windows are finished the hallway will then have the lost oak panelling reinstated. Please revisit the news page for updated pictures of the job.
Testimonials
Heartwood Construction shows a refreshing enthusiasm and a professional approach to the inevitable repairs that are required. The installation of a concealed steel (T / flitch plate) inside a prominent oak beam was completed with a minimum of fuss and no unsightly reminders. Chris Payne richly deserves his 2009 Sussex Heritage Trust Award for a competent and sympathetic approach to historic restoration.
P.Higgs, Mayfield
"We have been delighted by the Oak Frame Pergola which you recently installed at our home. Your help with the design, together with your excellent workmanship, has given us a superb addition to our garden which has already attracted numerous compliments. We would not hesitate to recommend you to anyone seeking your Oak Framing expertise."
D.Pennock, Northiam