Forgotten Mullion Windows Restoration
This was an extremely delicate and skilled project for Heartwood. The windows were rediscovered while research was being undertaken on the historic hand painted strap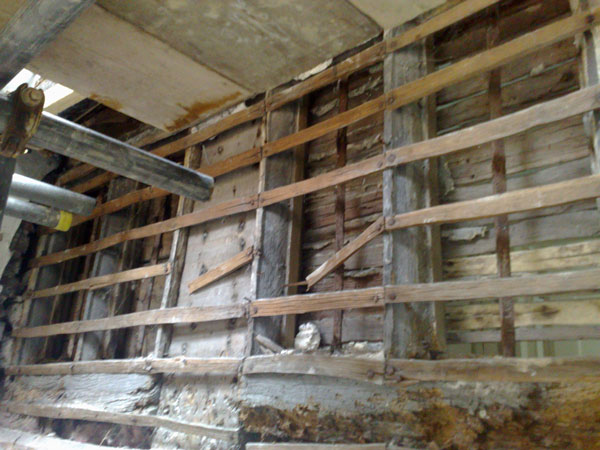 wallpaper. Probably due to movement the windows had been covered over, about 150-200 years ago, judging by the materials used. The moulded mullions had become mere studs for the lathes with many rosehead nails driven into them and covered with horsehair plaster and render. 
Once all of the unwanted materials had been removed, the next step was to closely inspect the extent of rot and damage from insects such as Deathwatch Beetle. 
The next stage was to remove all of the rot, up-to-date conservation guidelines state that as much of the original timber must be preserved as possible, for archeaological reasons. Behind the rotten timber, the oak was completely solid and will last hundreds of more years, providing it is looked after correctly.
Rebuilding the Cills and Mullions was then undertaken. Air dried oak was pieced into the areas where the rot had been removed and specialist glues were used to consolidate all of the original and new timbers.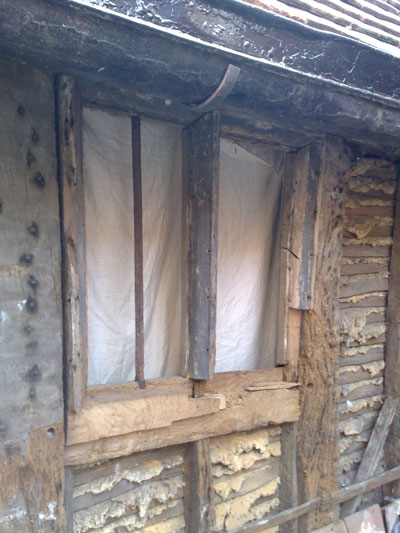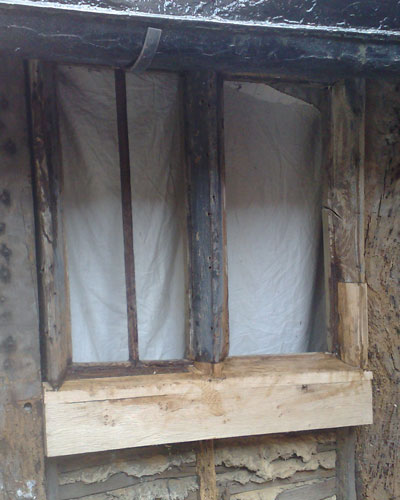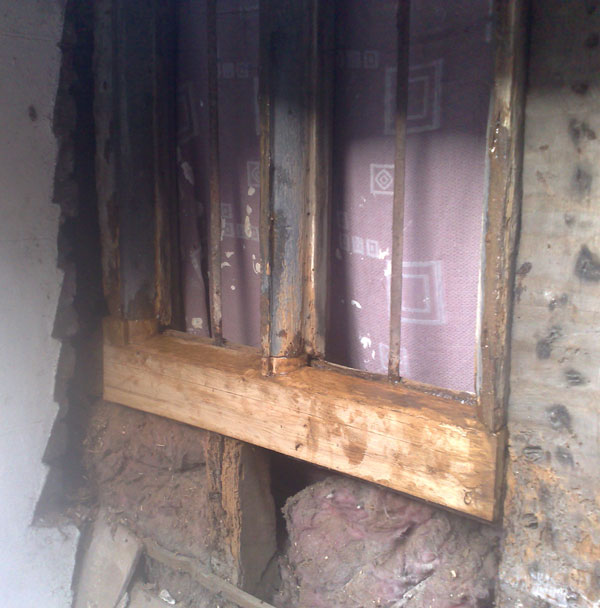 The opposite wing in The Hall House, has the same windows. mirrored in the architectural plan design, which were also restored by us. The hand made wrought ironmongery could be copied and a specialist blacksmith was employed to make the new catches, with scroll work and stays. Templates were taken from the openings to make the Sussex frames for the opening lights on the newly restored Mullion Frame.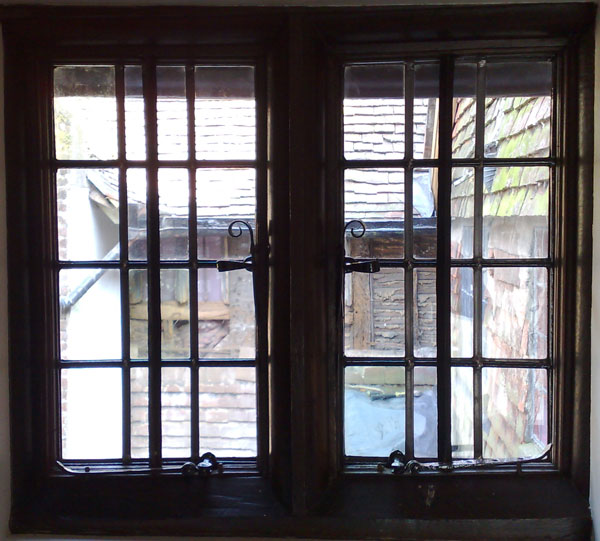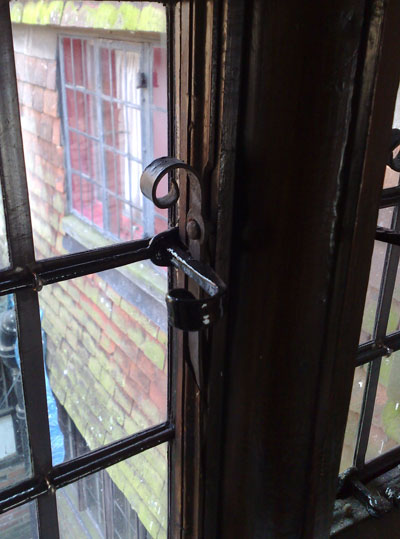 Once the blacksmith work had been done, the leaded lights were made and welded onto the frames with copper wire. Steel pins were driven into the mullions, which is a difficult operation, because if they are a millimetre out the can make a big difference how the window closes. Once all the parts were in place, the timbers were stained to match the existing and finished with linseed oil, which helps to feed the old timber and preserve it also.
Lead trays were then fitted under the cills and reclaimed tiles hung on the exterior of the wall.
Mullion Windows Restored.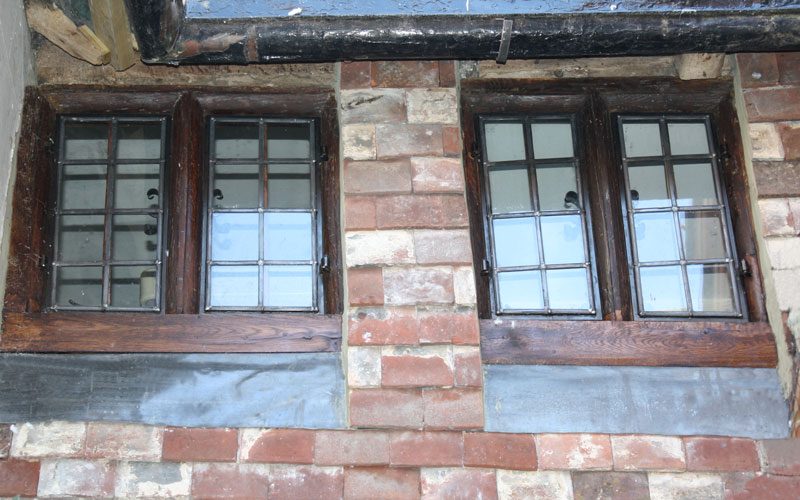 Testimonials
Heartwood Construction shows a refreshing enthusiasm and a professional approach to the inevitable repairs that are required. The installation of a concealed steel (T / flitch plate) inside a prominent oak beam was completed with a minimum of fuss and no unsightly reminders. Chris Payne richly deserves his 2009 Sussex Heritage Trust Award for a competent and sympathetic approach to historic restoration.
P.Higgs, Mayfield
I would like to add my name to the many satisfied customers of Heartwood Construction and Joinery. In our case they constructed a complex solid oak stair case over three floors, with an extra landing. This complex construction was in an Oast House which does not know what a "straight line or right angle" is! So this was a very complex difficult construction. We were delighted with the outcome, which was finished to an extremely high standard, and fitted with minimal disruption. I certainly would recommend Heartwood where complex hand crafted skills are needed.
Peter Ward Booth, Buxted, East Sussex